Owning a house is one thing but improving and adding value to it is another. this article seeks to help homeowners add more storage and protection in their outdoor areas with a range of carport and garage solutions. From single carports, to fully enclosed garage options, by the end of this blog, our goal is that you are a few steps closer to knowing the right solution that will suit your unique property.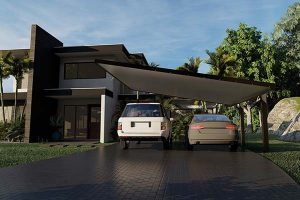 A carport or garage can create a better aspect to a property, and likely add value to the home. A common lacking in many homes is the amount of storage available, and with homes being the significant investment they are, is why outdoor storage so important, especially when you realise your assets are exposed or need the garage for extra storage.
Carports and garages are ideal for protecting and keeping your hard-earned assets. Whether it be cars, boats, motorbikes or home storage, the great feature of carports is there is a huge range of design, size and application options.
Why are carports so popular? 
The main reasons why carports are considered 
but the most obvious reason is to protect your car from adverse weather effects.
The main reason our customers benefit from carports or garages is for protection of their assets. When your vehicles are exposed, everyday heat and sun cause damage over time. Parking under a carport or garage will reduce the amount of time your cars spend in the weather, at least while parked at home.
Simple to purchase and easy to install.
Unless you opt for a completely custom design with an architect or building professional, you can purchase most carports off the shelf and can be delivered and installed with relative ease. A down-side to this is that prefabricated structures can often look cheap, with little design consideration.
The benefit of KOEDN is that we've managed to combine both worlds and create products that are architecturally designed so that our clients can have.
Most carports are made from steel or aluminium, materials than retain their strengths even after they are reused. KOEDNs is all about enjoying the outdoors, and in doing so, ensure we respect the environment by not using unsustainable materials such as timber or toxic powder coatings and give back by supporting environmental initiatives such as onetreeplanted.org. 
Metals are generally the recommended material to use for your carport as it is resistant to most conditions and by far the most durable compared to glass or timber. Also, as carports are open on both sides, heat from metal won't create problems like it would if it were a fully-enclosed garage. 
The carport often offers a more cost-effective alternative for protecting your vehicle/s and other assets to having a fully built-in garage.
Another importance of a carport is that as its use can be diversified such as hosting parties in, providing non-secure storage and adding functional and flexible areas outside of the home. You can even install a concrete floor and double your carports as a pavilion on hot summer days for entertaining and the like.
Carports can also create cool and protects areas outside during the Australia's harsh summers and provide cooling shade during the hot seasons.
A few other reasons our clients have told us how they've benefited from their carport include;
Living in Australia, we've all experienced the painful experience of sitting on the leather seats of a car parked in the hot sun for hours. Carports save your vehicles (and your backsides) from simmering in the sun. Carports are also convenient in that unlike a garage application, and you don't need to open or close doors to get in and out of them, especially when loaded up with groceries or other bulky items. 
KOEDN crafts well-designed carport solutions that not only provide better function than other car storage solutions available but are designed to leave a lasting arrival experience as you drive into your home. 
As Australians, we all know the dangers of our sun. I'm sure it's no surprise that according to sunsmart.com.au, Australia has one of the highest rates of melanoma diagnoses in the world and the reason it's so important to shelter ourselves and ourt families to enjoy the sunny days in controlled environments, that aren't over exposed to the sun.
The sun emits radiation in the form of electromagnetic waves at many different lengths. UV is the stuff you can't feel and can only see the effects of when you've been sunburnt. 
Shade structures over your pool do a great job of blocking the electromagnetic radiation for UV and depending on the colour of your pool shade sail; your fabric will generally block between 91 & 98.8% UV.
The following factors will play a vital part in selecting the right carport or garage solution for your property.
1. Cover & Flexible Storage
The amount of cover your carport can provide your cars dramatically improves the functional space you are creating. While this may not be an option for single carport sizes, if you can squeeze a slightly larger carport into your area, you will be able to have a functional storage place for lawn equipment or tools. One of our clients has recently been able to set up a small workbench and workshop storage unit between the columns of his LUDA54. Larger toys such as bicycles, motorcycles, boats, and trailers may fit within your carport just depending on the size you decide on. 
Whichever the size, KOEDNs range of cantilever structures are available in many sizes options, with the flexibility to customise to suit your assets needing protection. 
When it comes to protecting your vehicles, it's crucial to factor in where the western sun sets, as this is generally the hottest part of the day. The location and design need to limit exposure to your parked vehicle/s in the evening.
Ask yourself, for what do you need to protect your asset? KOEDN has many solutions, both waterproof and shade only option, to suit your individual needs.
Types of carports available
Hard roof vs soft roof carports 
Hard roof carports are supported by a roof (either flat or gable) and offer two to four open sides. The roof materials of hard roof carports vary from timber, metal, polycarbonate, Colorbond, Zincalume or tiles. Fabric carports, on the other hand, have a selection of shade only, or waterproof fabric outdoor membranes with hundreds of colour selections to choose from. 
Cantilever Carports
If you like the sound of a stylish carport solution or have limited space to work with, you may wish to opt-in for a cantilever shade solution. 
Cantilevered columns are minimalistic and modern in that the carport is made with two columns on one side of the structure so that your outdoor area can remain unobstructed by awkward posts. instead, the columns are engineered to support the span of the sail without additional external bracing required
Koedn Shade Sculptures 
KOEDN have crafted a range of cantilever shade and waterproof structures that offer exceptional quality with state of the art commercial-grade materials and timeless design integrity through KOEDNs design team of architectural experts. 
KOEDN's membranes are referred to as skins in that they are designed to be fixed in place with a leak-free seal to ensure your assets are fully covered and protected. Our range of skins are the best in the industry, with a minimum warranty of 10 years.
With three unique design series and many sizes, profile and pricing options, we welcome you to browse our ranges. 
Ikoe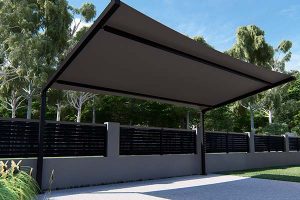 Sizes Available:
i43: 4m width x 3m depth
i635: 6m width x 3.5m depth
i54: 5m width x 4m depth
Luda
Sizes Available:
L43: 4m width x 3m depth
L635: 6m width x 3.5m depth
L54: 5m width x 4m depth
Luda Plus
Sizes Available:
L+65: 6m width x 5m depth
L+66: 6m width x 6m depth
Garage's are fully enclosed with walls on all sides and a lockable door that can be manually or electronically opened and closed. Like carports, garages can be extended directly off your home or can be free-standing. Most garages are extended from the front of the home directly off the driveway, while other properties will allow enough room on the side of the house to create access. 
The main advantage of a garage is that you are more protected from the weather, and in some cases, have a more secure storage area in that you can lock it like you would your home. This being said, semi-closed carports may be more of a deterrent than an enclosed garage in that garages needs to be infiltrated, so with extensive security, it can be secure. With a carport, should you decide to light the area, there becomes a psychological deterrent to criminal activity against your car because of its visibility. Not only this, but if you're parking your vehicle later in the evening when it's dark, we've all felt fear in those brief moments stepping out of your car. 
For this exact reason, KOEDN has a range of motion lighting solutions that look smart and provide that extra protection for your KOEDN. Check out the range by requesting a brochure.
Outdoor carports resolve the inconvenience of not having a garage. These free-standing outdoor structures are designed to provide ample protection for your well-loved assets. The wall-less open construction offers ventilation while shading your car or boat from UV exposure, rain, wind, hail and leaf litter. 
Carports are semi-covered in that it is open on at least one side. The benefits of which, other than those listed throughout the article, is the cost and ease. Unless designed to fit with the architecture of your home, garages and carports can often look cheap and 'tacked-on', rather than integrated within the form of your property. For this reason, KOEDN has designed a range of simplistic, design-focused carport solutions that, while don't require expensive architects and custom building materials, provide a complimenting aesthetic with most Australian homes. KOEDNs core design team have many years of architectural design experience and have incorporated this within KOEDNs cantilever range of structures.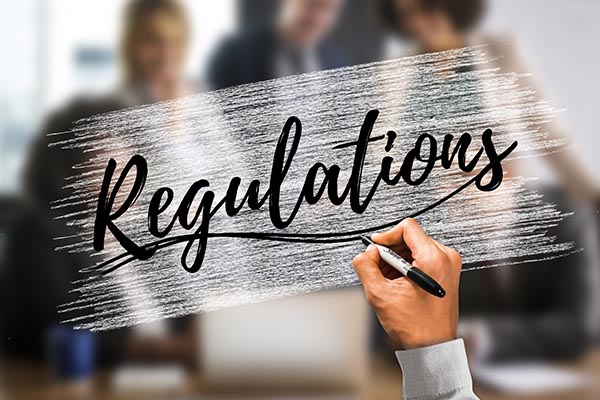 Consider your constraints and conditions.
It is well worth checking your local authority for planning permission before building your single carport or double carport. This can be complex as there are different rules based on your location, the dwelling house code and the design of your carport or garage. If your design and plans meet all the requirements of these rules, you won't likely need any council approvals. Where it doesn't meet all identified requirements, you will require a planning application. You can arrange for building approval of a garage or carport through a building certifier. 
KOEDN can help provide the information required from the certifier, including scaled and detailed plans. You can seek an alternative set-back from the front, side or rear boundary by applying for a siting variation.
As a general rule, planning will be much easier if you have a driveway with a set-back that allows room for a new structure. 
For those within Brisbane city council, you can find information about your property here, at the BCC planning page here. 
Colours
Depending on the materials of your carport, there are many colour options to consider, the majority being the columns, trims and roofing. If a metal roof sheeting is your preferred selections, Colorbond have a range of classic colours for your roof and trims that will harmonise with the colours of your existing house. If you are more daring and like to play with colour, shade or waterproof fabrics will allow you to create features from your carports ceiling. KOEDN have a massive range of fabrics.
Our preferred installers have a great article on shade sail colours and waterproof fabrics. Check it out if you're looking for some inspo on potential colours for your shade fabric carport here
Another factor to consider is the heat factor associated with colours. The general principle being that lighter colours allow more light through, give slightly less UV protection and tend to show the dirt more, while darker colours let less light through, provide higher UV protection and won't show dirt, grime and leaf litter as much.
One our of reps can show you samples of our different skins, including the full range of colours and ranges available to you. Contact us today. 
Landscaping
Think about how your carport will harmonise with the existing features outside of your home and adding some planter boxes where your carport is installed to add visual elements to an otherwise very functional parking spot. For a less permanent option, a few flower pots around the columns may even be enough to blend with your driveway and existing garden. Depending on the location of your carport, planting hedges or tall shrubs may create the added privacy from the street or neighbours, not to mention, further add shade to Australia's harsh elements. If planting is on your wishlist, our blog has a great section on planting ideas. Check it out here
Mentioned above for it's security purposes, lighting also creates beautiful ambience in an around your carport to enhance its beauty. KOEDNs range of lightsare designed to complement the structure simply and timelessly.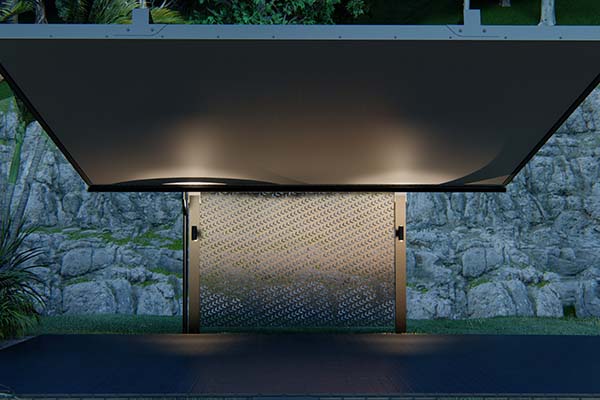 Instead of just having grass or existing driveway, perhaps consider alternate materials to frame the space. Here is an excellent opportunity to compliment your existing home by using similar paving or colour as the facade of your home. There are many tiles or pavers available to match these existing elements and blend with your garden or yard. Cement plastering, ceramics and gravel are also popular selections for your outside space. In addition to the look and feel, make sure you select non-slip, and hard-wearing flooring finishes to hold heavy loads and keep safe amidst lousy weather. 
Not all carports will come with gutters and downpipes but it's an essential element of your roof structure that provides water runoff and drainage when it rains or when you are washing your carport as it helps to channel water directly into the gutter.
Australian lifestyles are focused on the outdoors, so no wonder having additional storage and shade outside will ensure that your valuable goods are better protected from dangerous ultraviolet exposure with a carport or garage.
In deciding on which is the right car protection solution is right for you, we recommend first, analysing your home and creating a list of reasons from most important, to least important in what you need from it. For instance, if security and design are your most important items and the price is lowest on the list, then perhaps an architectural designed built-in carport is the best option for you. If convenience, protection and design are most important, but cost-effectiveness is still a high priority, perhaps a designer carport solution such as KOEDNs ikoe series will work well with your needs. If low price is a priority, yet you need to protect your vehicle, perhaps you can compromise on quality and design by selecting from the huge range of kit-form steel carports available from many suppliers. 
Ultimately, it is about assessing your needs and your unique properties design before deciding on whether a carport or garage will be most suitable. 
In every project we are part of, KOEDNs mission is to enhance people's lifestyles with better designed outdoor spaces and lean on the tenets of design, quality, and client care that make us great.
We create a simpler and faster way to have your carport delivered and installed in the following ways;
Range of products with customisable sizes and design options

Fast-delivery and installation by having pre-designed products

Stress-free customer service
Need inspiration for your carport? Check out our Instagram for heaps of inspo and other outdoor shade ideas