One of the most sought-after benefits of living in Australia and the main reason we are the envy of so many nations around the world, is our incredible weather.
As we warm up this time of year, there is nothing better than spending time outdoors. Perfect for relaxing by the pool, watching your kids play in the yard or entertaining guests over drinks and titbits, but with so many sunny days and clear skies days comes the need to make sure our yards have shade-a-plenty to help keep our family, pets and guests, protected and shaded in comfort. Hot afternoons in the blistering sun can have us heading indoors when we would rather be outside.
There are many outdoor shade ideas out there, and with so many options available, the important part is deciding on which is the perfect shade for you.
Where do you start? Where do you focus your time on finding the perfect shade solution for you?
If you want to find the best shade ideas for your unique needs, keep reading…
Step 1. Decide
Which area needs shade.
Brisbane, Queensland, gets at least 260 sunny days per year, and still to this day I'm surprised to see so many properties with spacious outdoor areas neglected because they aren't shaded. Look outside your front lawn, side boundary or backyard for the different areas around the home that you might consider.
Have a new car that is parked out front all year round that could use a carport solution? (or, like ours, perhaps your garage is full of everything BUT your cars…). And what about your outdoor entertainment zone? Is your furniture looking a little crusty after being in the elements day after day? Patios, balconies, pools and outdoor barbecue areas are too often neglected because there isn't adequate protection or shade to make good use of them.
Outdoor areas well worth shading…
There are three main reasons people seek to add shade to their outdoor area;
ONE.
Creating more usable spaces outside the home
TWO.
Increasing the resale value of the home
THREE.
Providing UV protection of assets
These factors will play a big part in deciding the shade solution best for you. If its increasing your properties resale value, according to Cherie Barbers, 10 ways to add value to your property entertaining outdoor areas that can be used all year round add value to a property largely because of the simple fact emotional connections are formed around these rooms. They have become social hubs that foster relationships with family and friends and help people relax.
If you seek to create usable space outside the home for your friends and family, a few factors come into play. The amount of shade you need, for instance, will generally depend on your climate and what you are shading. Living in a hot climate as we do, usually means that the majority of the area should be shaded. In some cases, however, you might only need to shade part of the area. A pool, for instance, might only need one third protected so you can bask in the rays (in moderation, of coarse ;)). Entertaining areas such as dining and lounge seating areas should be well-shaded along with any plant life exposed to the sun.
If it's protecting your assets or family, you'll be wanting maximum coverage and UV protection while considering how it's going to look with your homes entrance. Carports, for instance, can provide an excellent functional option for cars, boat, jet ski's or bikes that need protection, however so many are design purely for function rather than looks.
We have rounded up some of the best outdoor shade ideas for you, broken down by resale value, permanency, maintenance, aesthetics and protection so, you will be able to find one or more that works for you.
Quality Shade sails offer a more affordable outdoor shade option versatile enough to cover small spaces or provide complete patio cover. This option is particularly good if you're looking for something that will provide filtered sun in spots where you are not concerned about protection from the rain.
Long-lasting shade sail solutions are available through professional building companies. Perfect for larger areas such as patios, pools and decks, or small spaces like smaller yards or side easements or deck, shade sails can be designed around any shape and can create an artistic element to your home.
Made from shade sail fabric or waterproof sail PVC, shade sails are designed to be structural and withstand severe weather conditions. If done right and professionally installed, you can expect close to 10-15 years wear from your shade sail with yearly tensioning of its corners. For the full scoop on all things shade sails, you might want to check out Modiform shade sails informative post on What to look for in a quality shade sail
Another great feature of the shade sail is that the fabric is available in a huge range of colours that tie in with the trims of your home. Tip: steer clear of bright fabrics unless is it made from monotec shade fabric, or they may fade quickly in the harsh sun. UV reflection is also affected by the colour with darker colours reflecting UV better than lighter colours.
Waterproof sails are great for areas like patios and carports where rain renders a space unusable. Modiforms blog post goes into this in much greater detail.
Shade sails have a massive range of quality, price and durability. If a short-term solution is what you desire, cheap and cheerful might be the way to go. DIY sails are available through many online and small businesses, even Bunnings stock them. While DIY sails make for quick and easy sunblock, don't expect them to last. Shade sails are commonly mistaken for not requiring professional installation, but if you fix it to the wrong position (ie. on a tree, fence or another non-structural part of the house), damage may come from the effects of hail or wind storms.
Awnings are attached directly to your home and mostly, don't require posts (depending on its size and span). Awnings have been around forever and have kept up with contemporary trends with softer, more malleable and longer-lasting materials. Best used for its flexibility, retracted awnings can protract when the sun or rain is too strong and fold back when the weather is beautiful. Retractable awnings are available in motorised option or manually cranked.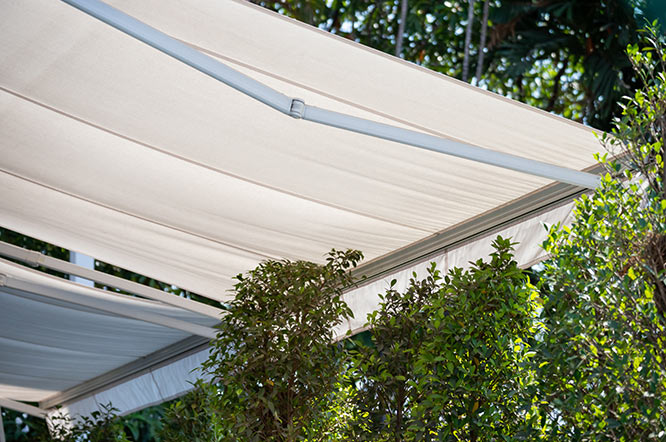 Permanent awnings are available and often made of more robust materials than fabrics, most commonly, aluminium. Solid metal awnings are your sturdiest option and can hold heavy rain, wind and sun for years. You can commit to your evening dinner alfresco, even if the weather looks a bit doubtful, and create a cool and inviting outdoor area during the day.
Although awnings aren't cheap, they do provide less expensive options compared with entire structures for larger areas.
When seeking shade, If your budget doesn't warrant building a permanent shade structure, or if have particular spots that need sun protection, such as a patio dining table, umbrellas will forever be a great lightweight option for a hot summers day.
Nowadays, you can find different shapes from the standard traditional garden umbrella often shown. If you're after a quick shade solution with portability, umbrella's are a great lightweight option for your outdoor area. Umbrellas are easy to move and angle around the position of the sun, which forgives the limited size and lack of structural integrity. Available in a variety of shapes, sizes and colours, you're bound to find a suitable option. With a wide range of materials, colours and designs available, umbrellas are an easy, portable shade option.
If you have a larger area to cover, cantilever umbrella's are generally sturdier and designed for maximum coverage. Cantilever umbrella's have a solid metal stand and are ideal for shading smaller decks and courtyards or pools and spas. Tip: Recommended size for the umbrella is minimum 600mm in diameter, overlapping on all sides.
If you are looking for a more permanent solution with more coverage options, KOEDN's cantilever structures may be the perfect alternative to the traditional umbrella. view our collection of cantilever shade structures here
Now let's talk about the permanent structures; First up, the pergola.
Built mainly for verandah's or over newly built decks, pergolas are classically constructed from timber and the roof made from thin wooden slates to keep areas shady without completely blocking the sun. While pergolas provide only partial shade, they are versatile structures with styles that complement most architectural styles. Some like to waterproof their pergola's by fixing clear, polycarbonate roofing or even of bamboo, while others dress it up with planting creepers for beautiful dappled natural shade.
Pergolas are most commonly used for increasing the homes' living area, which not only increases resale value, but allows the once-neglected backyard and spend more time outdoors.
Pergola with trellis shade
Pergola with polycarbonate roof
Pergola's are available in kit-form or through a fully customised build. Being that pergolas are generally for permanency, timber needs to be maintained regularly, so professional installation is recommended. Heat lamps and lighting can often be installed on the pergola ceiling for those few chilly evenings.
KOEDN has crafted a reinvention of the traditional pergola with the Luda series, designed to maximise outdoor enjoyment with carefully crafted design. Available in both shade and waterproof fabric options, see the collection here.
Have an outdoor yard and don't see much else but grass? Or perhaps a pool area where you can't run from the blazing sun? Gazebo's might be the solution for you. You can create shelter just about anywhere with a gazebo.
Whilst available in portable and fixed styles, permanent structures add resale value and create an extension of your home. Fixed gazebos are more robust, permanent structures, but and unlike pergola's, are free-standing and completely waterproof.
Likened to a small outdoor house, they are strong, weather-resistant and come in a wide range of styles. Add drawback curtains or roller blinds that you can pull around for a bit of privacy.
Adding even a small gazebo to your backyard creates a covered seating area where you can read, relax or visit with friends. So this is an excellent option for homeowners who have space and budget for this home improvement project. As a bonus, different areas around the gazebo will also be shaded as the sun moves through the sky, which can provide a protected space in which your children or dogs can play or relax outside.
Gazebos may be more expensive than the outdoor shade ideas mentioned, but this classic option adds a distinct element to your backyard. A gazebo provides a beautiful focal point and can act as an outdoor room to expand your living space beyond your home.
KOEDN's Luda and Arbour series are a spin-off to the traditional four-post gazebo in that it provides a waterproof, free-standing enclosure without the need for four posts due to its cantilever 2-post design. See the collection here.
Not only do trees far outweigh the beauty of anything man-made, but is also the original and oldest source of shade is a tree. If you're lucky enough to have a shady tree in the backyard, considers artfully pruning to allow dappled light to shine through. If you aren't so fortunate but love the idea, consider planting your own. The issue with this option is that it will take many years for a young tree to grow large enough to provide a significant amount of shade, but if you're in no rush, the result might be worth the wait. A tree can lower a home's temperature by as much as 20 degrees or more during the hot months. Think seriously before chopping one down and replacing it with a patio cover.
Plant trees
Shade trees are an obvious choice and an eco-friendly, inexpensive way to add shade to outdoor living areas. You will, of course, need to select varieties that grow in a manner that will provide shade, but you can easily find plenty of options at your local nursery or by working with a landscape designer. Many shade trees are deciduous, so you may want to opt for evergreens for year-round shade.
Install an arbour
Arbours have an open roof structure similar to a pergola, but with a trellis-like structure on either side to allow vines grow up and over the structure to provide shade. Add bench seating for a shady spot to read, enjoy your morning coffee or catch up with a friend. Growing vines takes time, so you will need to be patient if you choose this option.
Green walls
If you're looking for privacy as well as shade, green walls provide an excellent accessory to structures that look amazing and provide shade much like block out blinds.
KOEDN's cantilever columns are available with fixings that accommodate vertical privacy as well as shade coverage. Contact us to have a chat with a designer about your options.
Last but not least, you can always opt for an architectural custom hard roof structure that is sure to drop jaws. The advantage of going custom is that wherever your shaded area, the design and materials can be seamlessly integrated with the existing architectural style of your home.
With custom, materials, size, colours are endless so be prepared to invest time and money. Depending on the extent of customisation, many trades and experts may need to be involved. Services such as building designers, architects, engineers and certifiers will likely be required. This, coupled with the builder, council permits and other trades such as electricians, plasterers, roofers etc, the cost is generally high, and justifiably so. Its also not recommended if you want a quick solution or if its for resale value, as it is unlikely you will recoup the investment when it comes to selling. If, however, you're in your forever home, the investment may well be worth it.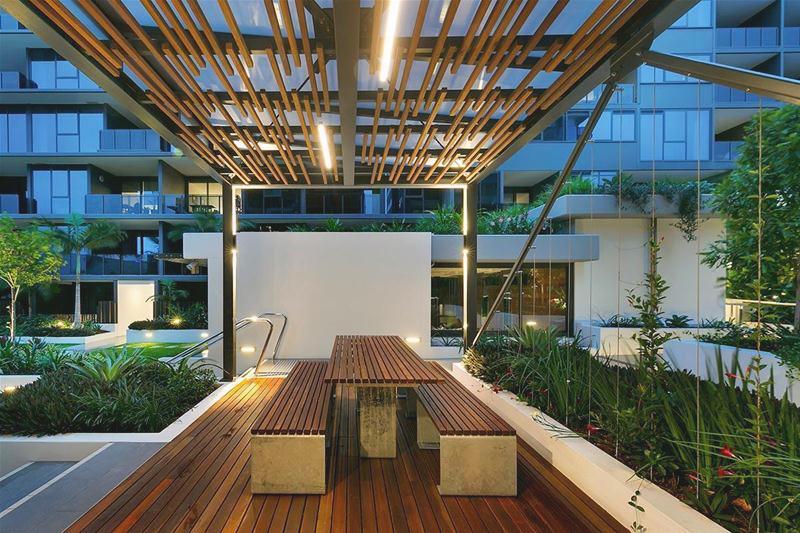 If you want the look and feel of an architectural customised structure but not as interested in the time and costs likely to be attributed, KOEDN's shade structure's stand out with superior looks, high level of craftsmanship with select materials and finishes to select from. These combined solutions, create the perfect hybrid between customised and pre-made solutions by offering beautiful, customisable pre-designed products and services at a justifiable price point, delivered by design industry professionals and experienced project managers.
KOEDN's solutions stand out with superior looks, high level of craftsmanship with select materials and finishes to select from. These combined solutions, create a value proposition that resolves the unmet needs of customer seeking a design solution for their unused outdoor spaces.
So there you have it, I hope by now you have a good handle on the different types of shade solutions that will work best for you. If you take away one piece of information, it is the importance of creating safe, shaded, ambient spaces that add value to your home and your family life. When planning an outdoor room or environment, remember to include at least one source of shade in your designs.
Australians love entertaining, and today, entertaining outdoor areas lead off the indoor living areas and have become social hubs that foster relationships with family and friends and help people relax. Shade solutions can make a big difference to the value of a property by simply extending the square meterage of a property seamlessly from the indoors to the outdoors.
So remember, in determining the best shade solution for you, first ask yourself how you will use the area (ie. pool shade, carports, casual get-togethers or more formal dos?). Next, consider if you want a short-term investment or a more considered, long-term solution with a great return on investment. Then, determine the look and feel you want to create and finally, decide if you wish to do it yourself or get expert assistance.
If a permanent shade solution that will add value to your property and create usable outdoor areas to almost any sized areas, KOEDN's cantilever shade structures may be the solution you've been looking for. KOEDN's cantilever structures provide shade, privacy, and safety to Australian homes. Check out our collection for all options available, or contact a designer to help create usable, stylish space outside the home.
Need inspiration? Check out our Instagram for further shade inspo for your outdoor space.